Sada McNiel

Agent

in Flint, MI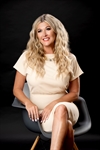 Professional Designations
REALTOR (S)
Expertise Types
Auction, Buyer Broker, Certified Notary, Commercial, Estate Bankruptcy, Farms, Foreclosure, Land, Manufactured Homes, Mobile Homes, New Homes, Probate, Ranches, Relocation, REO, Residential, Residential Investment, Rural Land, Short Sale, Single Family Homes, TIC, Townhomes
I am a full-time real estate agent with NextHome Inspire. I have been successfully selling real estate for almost 9 years now and have quickly become one of the top-selling agents in my county. Before getting into the real estate business I was a school teacher for 5 years. It was then that I realized how passionate I was about educating others. I attribute a huge portion of my success in real estate to my ability to fully educate my clients about the current market trends and the home buying and selling process. My clients know exactly what to expect throughout the process because I take the time educate them.
Aside from being a great educator, I also offer impeccable customer service. My clients become family and I make sure they always know how important their needs are to me. I take the time to listen to my clients so I know exactly what they are looking for in their next home, or what their financial goals may be when selling their current one. Great customer service in real estate also includes marketing. If you have your home listed with me you can count on having beautiful professional photography done that will ensure a maximum return on your investment. I have teamed up with one of the greatest photography companies in the area. This company offers 3-D visuals, virtual tours, gorgeous aerials, and so much more! Not only will I provide beautiful photos but I can assure you that your home will get immediate exposure on all the public real estate sites, as well as social media sites. The internet has created a whole new platform for marketing and I take full advantage of that to ensure a quick sale for my clients.
Availability is also very important. I hear many of my clients complain that they missed out on a home because the Realtor they used to work with simply was not available on the weekend to show it to them. This is not a problem my clients will ever have to worry about. I realize that not everyone has a flexible work schedule and sometimes after 5pm or on the weekends may be the only time they have. That is okay, I can accommodate you. The market is very competitive at the moment and you have to be aggressive if you want to ensure that you don't miss the opportunity to buy your dream house!
If you are looking to hire a dedicated, trustworthy, hardworking agent who will always put you first, look no further. I am here to assist and absolutely LOVE what I do. Selling Real Estate is not just a job for me; IT IS MY PASSION! Please give me a call if you are thinking about buying or selling a home.